C51 Repair Tool
Jump to navigation
Jump to search
C51 Repair Tool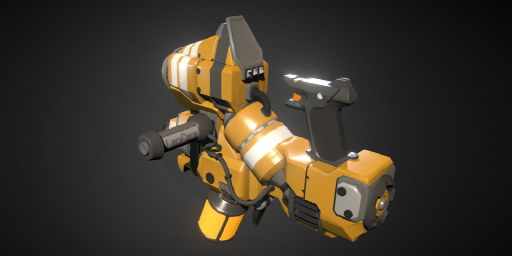 C51 Repair Tool
Repairs or destroys devices.
Tool ID: 13
Technical Name: CS1 Repair Tool
Category: Tools
Description
Slowly repairs or destroys machines, or aliens on ships. Holds 1000 Repair Gun Ammo. Repairs/damages the machine by 1 health.
It is referred to as the LogiCorp C51 Repair Tool, or Repair Gun, and uses Repair Gun Ammo or Repair Gun Ammo depending on where you are reading.
---
Usage
The repair tool has two bar graph displays. The left side indicates ammunition/charge remaining, when you point the gun at something, the right side indicates the device's state of repair (blue), or alien health (red).
Left Click: Repair machine.
Right Click: Destroy machine or alien.
R key: Reload (will top off partial ammo load)
---
Recipe
---
Release Video
The following release video was produced by the development team: C51 Repair Tool