Iron
Jump to navigation
Jump to search
Iron

Iron
Construction material made from refined iron ore
Resource ID: 14
Technical Name: RT_Iron
Category: Resources
Description
Iron is a refined element (ingot-form) created from Iron Ore using a Refinery.
Uses
Iron is used in the manufacturing of all ship components, such as Thrusts, Engines, etc. A complete list is provided below. Iron can also be processed into Steel using Carbon and a Refinery.
Storage
Refined Iron is sealed into containment crates. Each containment crate can store up to 600 units of Iron.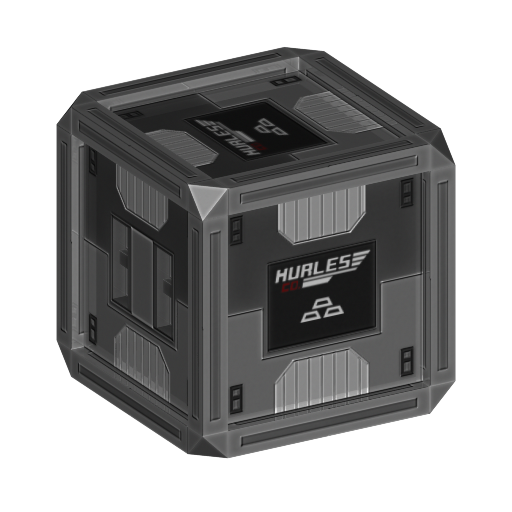 Manufacturing
Interior Components
| Image | Component | # Units Iron required |
| --- | --- | --- |
| | Floor Straight 01 | 15 |
| | Standard Floor 01 | 10 |
| | Indus Hallway Floor 01 | 35 |
| | Indus Hallway Floor 02 | 35 |
| | Floor Corner 01 | 15 |
| | Floor Line 01 | 15 |
| | Floor T 01 | 15 |
| | Floor Crossing 01 | 15 |
| | Pattern Floor 01 | 20 |
| | Square Floor 01 | 20 |
| | Hallway Door 01 | 100 |
| | Hallway Door Large 01 | 250 |
| | Hallway Door 02 | 150 |
| | Hallway Door 03 | 150 |
| | AGOS Terminal Wall 01 | 125 |
| | Power Cell Medium 01 | 1150 |
| | Fusebox 01 | 85 |
| | Tech 2 Class 1 Ion Engine 01 | 250 |
| | Disposer 01 | 750 |
| | Deco Wall 01 | 25 |
| | Deco Wall 04 | 25 |
| | Indus Hallway Wall 01 | 35 |
| | Indus Hallway Wall 03 | 35 |
| | Deco Wall 02 | 25 |
| | Standard Wall 01 | 10 |
| | Deco Wall 03 | 25 |
| | Deco Wall Ad 01 | 25 |
| | Deco Wall Ad 02 | 25 |
| | Indus Hallway Wall 02 | 35 |
| | Life Support Systems 01 | 250 |
| | Ceiling Fan 01 | 25 |
| | Floor Fan 01 | 40 |
| | Air Vent 01 | 25 |
| | Deco Wall Light 01 | 25 |
| | Deco Ceiling Light 01 | 25 |
| | Double Ceiling Light 01 | 40 |
| | Deco Ceiling 02 | 25 |
| | Indus Hallway Ceiling 01 | 35 |
| | Deco Ceiling 01 | 25 |
| | Standard Ceiling 01 | 10 |
| | Bunk Beds Wall 01 | 50 |
| | Deco Bookshelf Wall 01 | 35 |
| | Locker 01 | 125 |
| | Kitchen 01 | 125 |
| | Sloped EXT Window 01 | 50 |
| | Square Window 01 | 50 |
| | Wedged Window 01 | 50 |
| | Square Bay Window 01 | 50 |
| | Porthole 01 | 50 |
| | Top Window 01 | 50 |
| | Skylight 01 | 75 |
| | Arc Window 01 | 50 |
| | Double Window 01 | 100 |
| | Square Ceiling Window 01 | 50 |
| | Window Floor 01 | 50 |
| | Biodome 01 | 2525 |
| | Turret 01 | 225 |
| | Helm Large 01 | 750 |
| | Helm Large 02 | 1250 |
| | Helm Small 01 | 500 |
| | Helm Small 02 | 500 |
Prop Components
| Image | Component | # Units Iron required |
| --- | --- | --- |
| | Bay Window Prop 01 | 30 |
| | Bay Window Prop 04 | 30 |
| | Bay Window Prop 02 | 30 |
| | Bay Window Prop 03 | 30 |
| | Deco Prop Floor 01 | 40 |
| | Quarter Deco Prop Floor 01 | 10 |
| | Quarter Deco Prop Floor 02 | 10 |
| | Deco Fence 01 | 15 |
| | Deco Fence Middle 01 | 15 |
| | Deco Prop Wall 01 | 40 |
| | Half Girder Prop Floor 01 | 20 |
| | Half Girder Prop Floor 02 | 20 |
| | Half Girder Prop Wall 01 | 20 |
| | Half Girder Prop Wall 02 | 20 |
| | Half Deco Fence Left 01 | 5 |
| | Half Deco Fence Middle 01 | 5 |
| | Half Deco Fence Right 01 | 5 |
| | Stairs Full Height 01 | 250 |
| | Stairs Full Height 02 | 250 |
| | Spiral Stairs 01 | 125 |
| | Spiral Stairs Extension 01 | 125 |
| | Spiral Stairs Extension 02 | 125 |
| | Banister Full Height Left 01 | 5 |
| | Banister Full Height Right 01 | 5 |
| | Steep Stairs 01 | 75 |
| | Steep Stairs 02 | 75 |
| | Steep Stairs 03 | 75 |
| | Steep Stairs 04 | 75 |
| | Deco Pillar 02 | 10 |
| | Deco Pillar 01 | 25 |
| | Deco Pillar Small 01 | 5 |
| | Deco Pillar Small 02 | 5 |
| | Deco Pillar Small 03 | 5 |
| | Holo Table 01 | 40 |
| | Captain Chair 01 | 25 |
| | Pot Plant Large 01 | 10 |
| | Easter Head Prop 01 | 35 |
| | Pot Plant Fern 01 | 10 |
| | Alien Pot Plant 01 | 10 |
| | Pot Plant Sun Flower 01 | 10 |
| | BoardRoom 01 | 40 |
| | Pot Plant Palm 01 | 15 |
| | Queen Size Bed 01 | 15 |
| | Toilet 01 | 35 |
| | Dinning Corner 01 | 15 |
| | Dinner Bench 01 | 10 |
| | Chest High Wall 01 | 25 |
| | Deco Prop Wall 02 | 25 |
| | Deco Prop Hallway 01 | 20 |
| | Diagonal Wall 01 | 35 |
| | Diagonal Wall 02 | 35 |
| | Med Prop Wall Corner 01 | 40 |
| | Med Prop Wall 01 | 25 |
| | Med Prop Wall 02 | 25 |
| | Med Prop Wall Door 01 | 30 |
| | Deco Prop Light 01 | 15 |
| | Deco Pillar Light 01 | 15 |
| | Deco Prop Pillar Light Small 01 | 10 |
| | AGOS Prop Terminal 01 | 150 |
| | Power Cell Small 01 | 250 |
| | Power Battery Small 01 | 250 |
| | DataCore 01 | 250 |
| | Teleporter | 250 |
| | Hydrogen Generator TI | 250 |
| | Hydrogen Generator TII | 250 |
| | Hydrogen Tank TI Small 01 | 135 |
| | Ship Editor Terminal 01 | 350 |
| | Vending Machine 01 | 75 |
| | Resource Extractor 01 | 250 |
| | Hydrogen Tank TII Large 01 | 250 |
| | Refinery 01 | 500 |
| | Cargo Teleporter 01 | 1500 |
| | Long Range Teleporter 01 | 250 |
| | Molecular Assembler 01 | 275 |
| | Small Shield Generator 01 | 250 |
| | Large Shield Generator 01 | 250 |
| | Transponder 01 | 245 |
| | Deco Prop Floor 02 | 25 |
| | Deco Prop Floor 03 | 25 |
| | Cargo Lift 01 | 125 |
| | Cargo Lift 02 | 225 |
| | Cargo Lift 03 | 325 |
| | Cargo Pad 01 | 50 |
| | Cargo Pad 02 | 60 |
Exterior Components
| Image | Component | # Units Iron required |
| --- | --- | --- |
| | Ext 111 001 | 5 |
| | Ext 111 002 | 5 |
| | Ext 111 003 | 5 |
| | Ext 111 006 | 5 |
| | Ext 111 007 | 5 |
| | Ext 111 008 | 5 |
| | Ext 111 009 | 5 |
| | Ext 111 010 | 5 |
| | Ext 111 011 | 5 |
| | Ext 111 012 | 5 |
| | Ext 111 013 | 5 |
| | Ext 111 014 | 5 |
| | Ext 111 015 | 5 |
| | Ext 111 016 | 5 |
| | Ext 111 018 | 5 |
| | Ext 111 019 | 5 |
| | Ext 111 020 | 5 |
| | Ext 111 021 | 5 |
| | Ext 111 024 | 5 |
| | Glow Block Straight 01 | 5 |
| | Glow Block Corner 01 | 5 |
| | Glow Block Crossing 01 | 5 |
| | Glow Block Cap 01 | 5 |
| | Glow Block T Piece 01 | 5 |
| | Glow Block Wraparound 01 | 5 |
| | Ext 211 001 | 10 |
| | Ext 211 002 | 10 |
| | Ext 211 003 | 10 |
| | Ext 211 004 | 10 |
| | Ext 211 004 Mirror | 10 |
| | Ext 211 005 | 10 |
| | Ext 211 005 Mirror | 10 |
| | Ext 211 006 | 10 |
| | Ext 211 006 Mirror | 10 |
| | Ext 211 007 | 10 |
| | Ext 211 007 Mirror | 10 |
| | Ext 211 008 | 10 |
| | Ext 211 009 | 10 |
| | Ext 211 010 | 10 |
| | Ext 211 011 | 10 |
| | Ext 211 012 | 10 |
| | Ext 211 013 | 10 |
| | Ext 211 014 | 10 |
| | Ext 211 015 | 10 |
| | Ext 211 016 | 10 |
| | Ext 211 017 | 10 |
| | Ext 211 018 | 10 |
| | Ext 211 019 | 10 |
| | Ext 211 020 | 10 |
| | Ext 211 021 | 10 |
| | Ext 211 021 Mirror | 10 |
| | Ext 211 022 | 10 |
| | Ext 211 022 Mirror | 10 |
| | Ext 211 023 | 10 |
| | Ext 211 023 Mirror | 10 |
| | Ext 211 024 | 10 |
| | Ext 211 025 | 10 |
| | Ext 211 027 | 10 |
| | Ext 211 028 | 10 |
| | Ext 211 028 Mirror | 10 |
| | Ext 211 029 | 10 |
| | Ext 211 029 Mirror | 10 |
| | Ext 211 030 | 10 |
| | Ext 211 030 Mirror | 10 |
| | Ext 211 031 | 10 |
| | Ext 221 001 | 20 |
| | Ext 221 002 | 20 |
| | Ext 221 003 | 20 |
| | Ext 221 004 | 20 |
| | Ext 221 005 | 20 |
| | Ext 221 006 | 20 |
| | Ext 221 007 | 20 |
| | Ext 221 008 | 20 |
| | Ext 221 009 | 20 |
| | Ext 221 010 | 20 |
| | Ext 221 011 | 20 |
| | Ext 221 012 | 20 |
| | Ext 221 013 | 20 |
| | Ext 221 014 | 20 |
| | Ext 221 015 | 20 |
| | Ext 221 016 | 20 |
| | Ext 221 017 | 20 |
| | Ext 221 018 | 20 |
| | Ext 221 019 | 20 |
| | Ext 221 020 | 20 |
| | Ext 221 021 | 20 |
| | Ext 221 022 | 20 |
| | Ext 221 023 | 20 |
| | Ext 221 026 | 20 |
| | Ext 221 027 | 20 |
| | Ext 221 028 | 20 |
| | Ext 221 029 | 20 |
| | Ext 221 030 | 20 |
| | Ext 221 031 | 20 |
| | Ext 221 032 | 20 |
| | Ext 222 001 | 40 |
| | Ext 222 002 | 40 |
| | Ext 222 003 | 40 |
| | Ext 222 004 | 40 |
| | Ext 222 005 | 40 |
| | Ext 222 006 | 40 |
| | Ext 222 007 | 40 |
| | Ext 222 008 | 40 |
| | Ext 222 009 | 40 |
| | Ext 222 010 | 40 |
| | Ext 222 011 | 40 |
| | Ext 111 022 | 5 |
| | Ext 111 023 | 5 |
| | Girder Block Small 01 | 5 |
| | Girder Block Large 01 | 40 |
| | Ext 221 033 | 20 |
| | Ext 221 034 | 20 |
| | Ext 242 Class 2 Ion Engine 01 | 400 |
| | Ext 232 Class 1 Ion Engine 01 | 300 |
| | Ext 311 Class 3 Ion Engine 01 | 150 |
| | Long Range Sensor Array 01 | 480 |
| | Sensor Array Small 01 | 120 |
| | Solar Panel 01 | 150 |
| | Solar Panel 02 | 75 |
| | Maneuvering Thruster 01 | 75 |
| | Maneuvering Thruster 02 | 75 |
| | Maneuvering Thruster 03 | 75 |
| | Maneuvering Thruster 04 | 75 |
| | Industrial 01 | 5 |
| | Industrial 02 | 5 |
| | Industrial 03 | 20 |
| | Industrial 04 | 5 |
| | Industrial 05 | 20 |
| | Industrial 06 | 20 |
| | Industrial 07 | 5 |